Research and Development
(Subsurface Microbiology Research Group)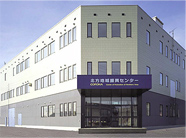 Northern Advancement Center for Science & Technology
H-RISE
5-3 Sakaemachi, Horonobe-cho, Teshio-gun, Hokkaido, 098-3221, Japan.
TEL+81-1632-9-4112
FAX +81-1632-9-4113
Research Contents
1. Research on element technology for development of methane gas deposit and CO2 storage using the subsurface environment.
Exploration for methane-producing microbial communities in a subsurface environment in diatomaceous formation and coal beds, and identifying their functions.
Identification of the methanogenesis process in subsurface environment and evaluation of the application method.
Exploration for microorganisms capable of producing organic matter from CO2 stored in a subsurface environment, identification of their functions, and evaluation of the utilization method.

Research Topics & Publications
Ueno A, Shimizu S, Hashimoto M, Adachi T, Matsushita T, Okuyama H, Yoshida K (2017) Effects of aerobic growth on the fatty acid and hydrocarbon compositions of Geobacter bemidjiensis BemT. Journal of Oleo Science 66:93-101.
Yoshida K, Hashimoto M, Hori R, Adachi T, Okuyama H, Orikasa Y, Nagamine T, Shimizu S, Ueno A, Morita N (2016) Bacterial long-chain polyunsaturated fatty acids: their biosynthetic genes, functions, and practical use. Marine Drugs 14:
Shimizu S, Ueno A, Ishijima Y (2011) Microbial Communities Associated with Acetate-Rich Gas-Petroleum Reservoir Surface Facilities. Bioscience, Biotechnology, and Biochemistry 75:1835-1837.
Shimizu S, Akiyama M, Ishijima Y, Hama K, Kunimaru T, Naganuma T (2006) Molecular characterization of microbial communities in fault-bordered aquifers in the Miocene formation of northernmost Japan. Geobiology 4:203-213.

Major Equipments
1. Anaerobic Chambers (Hirasawa Co., Ltd)
2. Deoxygenized Gas Pressure & Replace Injector:GR-8 (SANSHIN INDUSTRIAL Co., Ltd / GR-8)
3. Gas Chromatograph-Mass Spectrometry (JEOL Co. Ltd / JMS-Q1050GC)
4. Liquid Chromatography (SHIMADZU Co. Ltd / LC20A)
5. Gas Chromatography (SHIMADZU Co. Ltd / GC-8A, GC-14B, GC-2010 Plus)