Research and Development
(Subsurface Microbiology Research Group)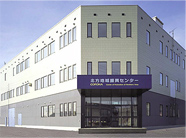 Northern Advancement Center for Science & Technology
H-RISE
5-3 Sakaemachi, Horonobe-cho, Teshio-gun, Hokkaido, 098-3221, Japan.
TEL+81-1632-9-4112
FAX +81-1632-9-4113
Research Contents
1. Researches on field science for better understanding of subsurface environment for diatomaceous formation and coal beds.
Estimation and assessment of subsurface microbial ecosystem by developing a phylogenetic database for microorganisms living in diatomaceous formation and coal beds.

Research Topics & Publications
Ueno A, Shimizu S, Tamamura S, Naganuma T, Ohmi Y, Kaneko K. (2014) Structural alteration of humic acids by Pseudomonas spp. from deep terrestrial subsurface diatomite formations in northernmost Japan. Geomicrobiology Journal 31:654-663
Shimizu S, Ueno A, Ishijima Y (2011) Microbial Communities Associated with Acetate-Rich Gas-Petroleum Reservoir Surface Facilities. Bioscience, Biotechnology, and Biochemistry 75:1835-1837.

Major Equipments
1. Anaerobic Chambers (Hirasawa Co., Ltd)
2. Deoxygenized Gas Pressure & Replace Injector:GR-8 (SANSHIN INDUSTRIAL Co., Ltd / GR-8)
3. Gas Chromatograph-Mass Spectrometry (JEOL Co. Ltd / JMS-Q1050GC)
4. Liquid Chromatography (SHIMADZU Co. Ltd / LC20A)
5. Gas Chromatography (SHIMADZU Co. Ltd / GC-8A, GC-14B, GC-2010 Plus)