Research and Development
(Groundwater Environment Research Group)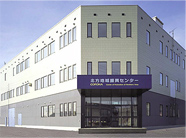 Northern Advancement Center for Science & Technology
H-RISE
5-3 Sakaemachi, Horonobe-cho, Teshio-gun, Hokkaido, 098-3221, Japan.
TEL+81-1632-9-4112
FAX +81-1632-9-4113
Research Contents
Subject of Research: Elucidation of subsurface environment and exploration for useful resources
1. Groundwater quality and isotope analysis and search for useful resources.

Aimed at understanding the geochemical and hydrological characteristics by analyzing the water quality, mineral composition, isotope concentration, etc. of the groundwater at Northern Hokkaido; this study also searches for useful resources like iodine, elucidates the mechanism of deposit formation, and quantifies the resources available.

2. Understanding the geochemical properties of peat and resource processing methods.

Laboratory experiments on chemical and microbial decomposition of peat layers are conducted after understanding the physical properties, diversity and geological characteristics of peat in the Northern Hokkaido region to find optimal resource processing methods.

3. Characteristics of subsurface environment and mineralization of carbon dioxide.

This study examines how the subsurface environment can be utilized based on the analysis of its characteristics. In particular, in situ surveys and laboratory experiments will be conducted focusing on the mechanism of carbonate mineral to understand the physical and chemical processes of carbon dioxide in the surface.

Research Topics & Publications
A proposal for qualitative analysis method on dissolved lignin concentration in groundwater (June 2013)
Origin of dissolved methane in the Koetoi Formation through to the alluvium in Horonobe, Hokkaido (March 2013)

Major Equipments
1. 761 Compact IC (Metrohm Co., Ltd)
2. Total Organic Carbon Analyzer (SHIMADZU Co., Ltd / TOC-V)
3. FT-IR (Thermo Scientific Co., Ltd / Nicolet iS5)
4. Trace Reduction Gas Analyzer (Round Science Co., Ltd / TRA-1)
5. Fluorescence Spectrometer (HITACHI Co., Ltd / F-2700)